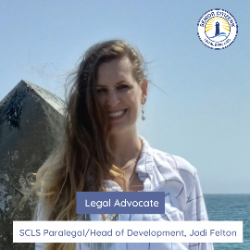 Stay Golden, Support Senior Citizens!
by Jodi Felton
Hello!
My name is Jodi Felton. I'm a Legal Advocate & Paralegal that works in Nonprofit Elder Law and defends the Rights of the Elderly. But before I studied law, I worked with seniors for seven years as a recreational therapist and a caregiver. I would not have been the manager, advocate or person I am today without those vital years I spent with one of our most vulnerable demographics. They added soft skills like patience, humility, appreciation, compassion, magnanimity, emotional strength and the art of slowing down, to my very logical and analytical skill set. They also made me laugh every single day at work, which made me stop taking myself and life so seriously. Caring for wise elders put an unexpected uplifting joy in my young step!
Today, I am particularly passionate about defending seniors in the face of discrimination, aggression, indifference, elder abuse and predatory, consumer fraud. Your donation to my campaign makes a direct impact on seniors I help and cases I am an advocate on that tackle some of the issues I mentioned here.
Thank you kindly for caring and I strongly recommend volunteer work with your local senior citizens, for them, for you & for our community and globe.
Jodi Felton
Senior Citizens' Legal Services is turning 50! Join us as we celebrate at our second annual Gala, our Golden Anniversary Charity Gala on Friday, May 13, 2022 at 6 - 11 PM. After foregoing most of our fundraising efforts throughout the pandemic, this festive event will be hosted at the historic and beautiful ocean front Coconut Grove. We cordially invite you to come enjoy dinner and dancing to the fabulous Rusty Rock and Roll band while supporting the work that Senior Citizens' Legal Services does for the most vulnerable members of our community.
Our night of dinner and dancing, also includes a full program of awards, special guests, online and day of event silent auction and full, cash bar. Auction items include art, gift certificates, local experiences and gift baskets. This is a chance for our supporters and professionals in our community to put on your fanciest (gold?) clothes, get together with old and new friends, network and have a festive Friday night. Let us all celebrate 50 strong years of serving our senior community.
** This is a Covid Safe Event! We're taking every precaution to ensure the well-being of our attendees. The event space is a large, beautiful high ceiling, well-ventilated ballroom with windows open to the ocean. Face masks will be optional. We will be requesting verification of covid-19 vaccination or negative PCR test result within 48 hours of the event.**